White sauce with oat milk, or bechamel sauce with oat milk, is a dairy free version of the French classic sauce and is a key ingredient for many dishes.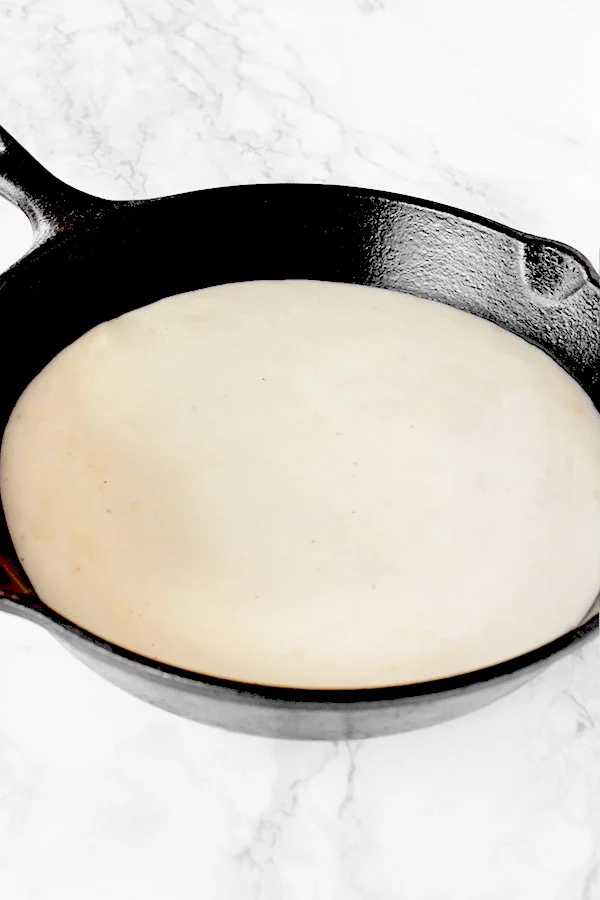 A dairy free white sauce is a must for a number of dishes.
Dishes like Dairy Free Italian Lasagna and Dairy Free Scalloped Potatoes are simply not the same without it!
The French term for this medium-thick white sauce is béchamel, and it is important as a base for soufflés.
Italians and Greeks are more fond of using it in pasta casseroles with a ragú. Greek moussaka calls for it too.
This white sauce with oat milk, or bechamel sauce with oat milk if you prefer, is a great dairy free sauce for these kinds of recipes.
What Kind of Oat Milk Should I use?
Personally, I prefer to use mild flavored oat milks because I don't like adding an oat flavor to things like this white sauce.
However, if you don't mind possibly adding a mild oat flavor to this sauce, you can use whatever oat milk you have on hand.
WHAT IS A ROUX
A roux is flour and fat cooked together until it reaches a specific color.
It is used as a thickening agent for gravy, sauces, soups, and stews and has been used in French cooking for hundreds of years to thicken sauce.
The flour is added to the melted fat or oil on the stove top, blended until smooth, and cooked to the desired color.
A roux can be white and used for country gravy, blond for classic gravies, or brown and used in gumbo and jambalaya.
The lighter the roux, the more thickening power it has.
Once the roux is the desired color, liquids like stock are added.
Browning Flour
People often see instructions like "brown the flour" and avoid this step because they aren't making brown gravy.
Browning flour means you're cooking the flour. This removes the flour flavor so it won't ruin the taste of your gravy.
WHY USE FLOUR TO THICKEN Sauce
Many people don't like using flour because if it isn't cooked long enough, it can give a floury flavor. Also, if not made properly, it can become clumpy.
The good news is, making a smooth creamy sauce or gravy is a snap if you turn it into a roux first.
Another benefit some people see with gravy made with flour is that it keeps better in the fridge. This means it can be made ahead of time or used for leftovers.
What Kind of Oil to Use
Neutral oils like vegetable oil, safflower oil, and sunflower seed oil work well here.
Flavored oils, like olive oil and coconut oil, can be used as well but may add an undesired flavor to your dish.
Schmaltz or other rendered animal fats can also be used in place of oil and may add a nice savory flavor.
Gluten Free
For a gluten free version, skip the roux. Instead, heat the milk and add a slurry to it.
WHAT IS A SLURRY
Slurries are commonly used in Asian cooking and Chinese-American cuisine. It is used to make sauces needed for recipes like Beef and Broccoli and Pepper Steak.
A slurry, like a roux, is used to thicken gravies, sauces, stews, and soups. However, unlike a roux, it is added at the end of the recipe and is gluten free.
It is a combination between corn starch or potato starch and water and provides a silky texture.
While it is less common, slurries can be made with flour.
How to make a slurry
To make a slurry, use half the amount of flour as the recipe calls for. Then, slowly add water to it until you get a thin paste.
Can it be made ahead of time?
Yes. You can make this sauce a day or two before and simply reheat it shortly before you're ready to serve.
Let sauce cool completely and cover it with wax paper or pour a film of milk over it to prevent a skin from forming.
How to Store
Once the sauce has cooled, place it in an airtight container. Keep up to 5 days in the refrigerator.
How to Freeze
Once the sauce has cooled, place it in an airtight container or a resealable freezer bag.
You can freeze sauce for up to 5 months. After that, it is still safe to eat, but the quality begins to degrade.
How to Reheat
Gravy will thicken as it cools. When you reheat it, thin it out with additional oat milk or water until it is smooth and reaches your desired consistency again.