These dairy free instant mashed potatoes are made without milk or butter.
I believe the goal when making instant mashed potatoes is to get them to taste as close to homemade mashed potatoes as possible.
Instant mashed potatoes are russet potatoes that have been cooked, mashed, and then dehydrated.
However, by themselves they don't have all that much flavor, so that part is on us.
My homemade dairy free mashed potatoes without milk and my dairy free mashed potatoes without butter are packed with flavor, so I know you don't need dairy for flavor.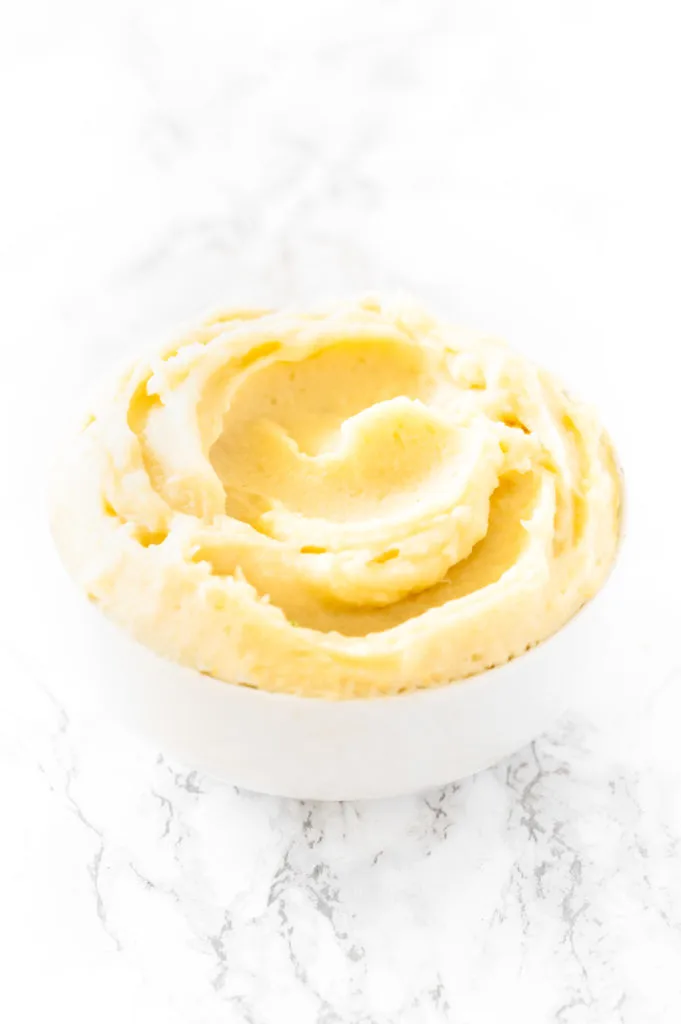 To make instant mashed potatoes, you need to rehydrate the potato flakes, which requires a decent amount of liquid.
Most instructions will call for hot water and milk.
However, unlike my mashed potatoes with almond milk, mashed potatoes with oat milk, and mashed potatoes with coconut milk, I decided to leave out the milk all together.
You can replace the milk called for in mashed potatoes, including instant mashed potatoes, with more water or something tastier like stock.
I decided to opt for the most flavor and use chicken stock or vegetable stock.
Homemade stock is ideal. Bullion cubes, bullion powder, or store-bought stock will work too.
I also wanted to add some extra creaminess to the mashed potatoes, so I used my secret ingredient for incredibly creamy mashed potatoes – mayonnaise.
Don't worry, the mashed potatoes don't taste anything like potato salad. You can't taste the mayonnaise at all, but the mashed potatoes are oh so creamy!
Are instant mashed potatoes actually potatoes?
Instant mashed potatoes are made from potatoes that have been cooked, mashed, dehydrated, and packaged.
How can I make instant mashed potatoes better?
Since instant mashed potatoes are mashed potatoes that have been dehydrated, once you rehydrate them you can add to them anything you'd normally add to mashed potatoes.
Personally, I think instant mashed potatoes that are simply rehydrated – especially if you only use water – has a taste reminiscent of dirt. So I make sure to add lots of flavor!
I do this by using stock instead of water and sometimes instead of both water and milk. I also use onion powder and garlic powder for added flavor.
Lastly, I use a little mayonnaise, which is my secret ingredient in a lot of my home cooking.
Mayonnaise is incredible for roasting, grilling, baking, and even frying. It also makes the creamiest mashed potatoes!
Are instant mashed potatoes as healthy as regular potatoes?
Instant mashed potatoes have more sodium than fresh potatoes and less protein, dietary fiber, and vitamins.
Can you make instant mashed potato without milk?
Yes. What you need is a liquid, not specifically milk. However, the fat in milk does make it a little creamier.
You can substitute milk in mashed potatoes with water, stock, coconut milk, almond milk, and oat milk.
Personally, I like using either stock instead of both the water and milk, or a combination of stock and a full fat neutral flavored oat milk for creaminess.
How to make creamy mashed potatoes without milk?
Additions like dairy free milk, coconut cream, almond cooking milk, water, and mayonnaise can all help make something creamy without dairy.
What you use really depends on what you are making. With dairy free mashed potatoes, any of these options work.
Milk actually doesn't make mashed potatoes super creamy. It mostly just adds liquid so the potatoes aren't dry, though in this case, also for rehydration.
It is the addition of fat that makes mashed potatoes and other dishes creamy.
This fat usually appears in the form of butter, or sometimes creamy cheese or even sour cream.
However, you can use other forms of fat such as oil to get that creaminess.
To make them extra creamy, add a little bit of mayonnaise like I do in this recipe. You won't taste the mayonnaise, but the mashed potatoes will be oh so creamy!
Can you substitute mayonnaise for milk in mashed potatoes?
Mayonnaise is my secret ingredient for having incredibly creamy mashed potatoes.
However, especially with instant mashed potatoes, you do still need enough liquid to make sure the potatoes are not dry.
So, in this recipe, I use it more to add a creamy texture than to replace the milk all together.