Lemon sugar is a flavorful way to repurpose lemon peels. Use it any way you'd use regular sugar to brighten up drinks and baked goods.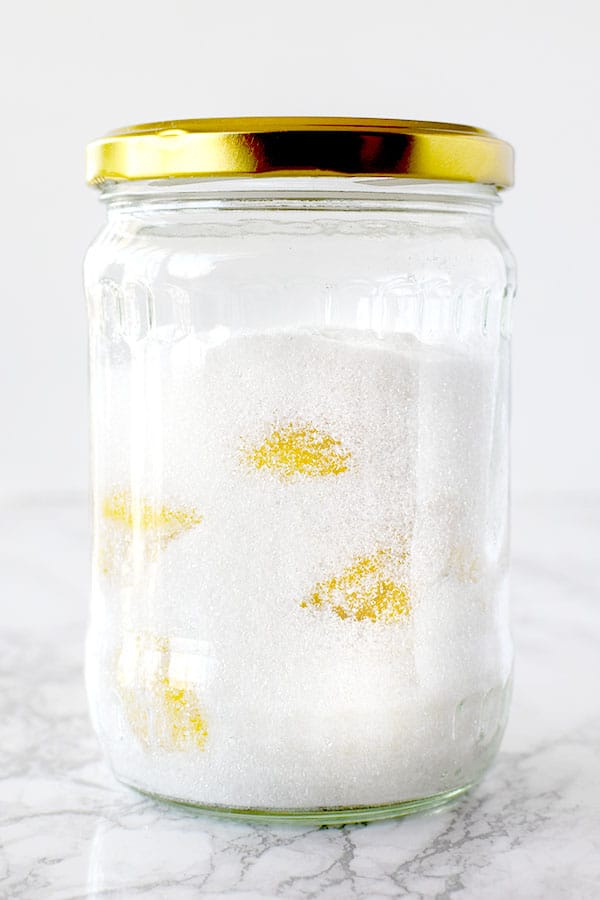 Lemon sugar is a great way to use lemon zest.
Before squeezing lemons for lemonade I peel the zest off.
Then I use it to make lemon extract or lemon sugar.
I do it before rather than later because it is easier to peel it that way.
This is a great waste not want not recipe that repurposes ingredients that would otherwise be thrown away.
To my surprise, this sugar tastes like candy.
Not an overly sour lemon candy, but has more of a sweet flavor with a hint of lemon.
Actually, the peels end up becoming a sort of candy themselves that I really enjoy eating.
This is a plus because then they don't get tossed even after being used. I ate them!
So now to the big question: what can it be used for?
The answer is it can be added to anything for an extra touch of lemon.
You can use it in place of regular sugar in recipes or tea, lemonade, and limonana, sprinkled over cookies, or to decorate the rim of a glass.
I like to decorate my lemonade and limonana glasses with it and I think it works well in sweet potato pie which uses lemon extract.
If you'd like to make colored lemon sugar first follow this recipe and then follow my recipe for how to make colored sugar.