Shawarma is an is one of the most beloved street foods in Israel – especially among tourists! It isn't hard to make at home though so you can easily bring the flavors of Israel to your kitchen.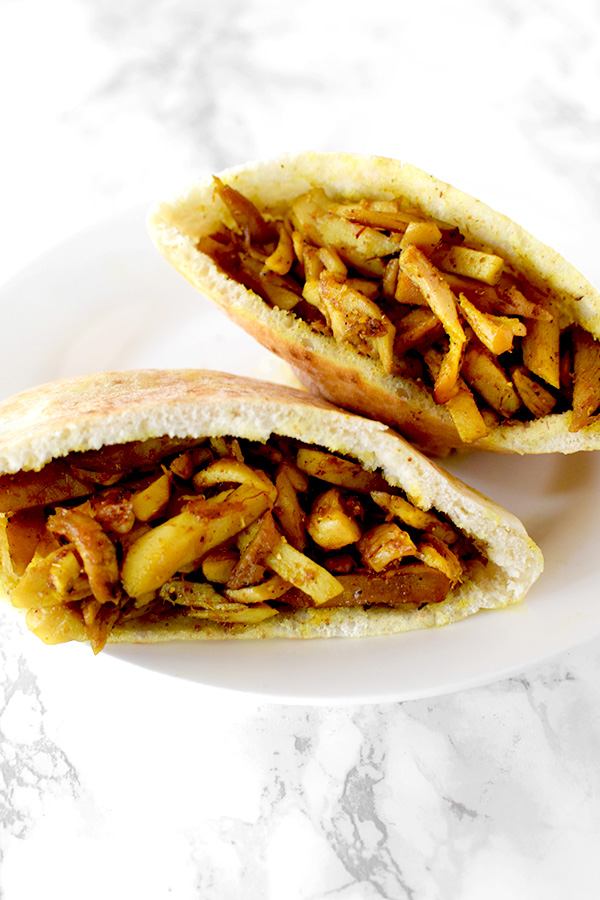 Shwarma originated in the Ottoman Empire and is today popular across the Middle East and is closely related to the Greek Gyro.
Traditionally, shawarma was made with lamb but can also be made with goat, beef, turkey, or chicken.
In Israel, all of these versions can be found – I've tried all of them – but turkey is the most popular, followed by lamb and chicken.
In fact, turkey shawarma is eaten so much in Israel that Israeli's eat more turkey than anyone else globally. Due to Thanksgiving Americans are in second place.
In fact, since shawarma is typically made with boneless skinless turkey thigh, raw pieces are actually labeled "shawarma" in supermarkets.
Still, the lamb flavor is ideal so you'll often see slices of lamb fat at the top of rotisserie. As the fat melts, it drips down adding flavor and preventing the meat from drying out.
Shawarma is sliced off the skewer as orders are placed. It is then served along in a pita or a lafa that has been shmeered with chumus (hummus), along with french fries and Israeli salad, and drizzle with tichina (thin).
I'm a purist so I leave it there but people add all kinds of pickled vegetables and/or top with amba.
For those who like it spicy "charif" (which means spicy and is actually called "schoog" is added for an extra kick.