This is the best began pumpkin pie I've ever had bar none! In fact, it is better than just about any pumpkin pie I've ever had except the recipe this based off of.
The thing I love most about this pie aside from how incredibly good it tastes is actually how amazingly easy and fool proof it is!
Since pumpkin pie has a pumpkin based custard filling, it is more prone to mishaps and can be quite finicky.
A custards are basically sweetened milk or cream cooked with egg or egg yolk to thicken it.
The problem with this is that if the eggs over cook it could lead to cracking and the pie falling all together.
That is not with this perfect vegan pie though!
Since this recipe uses cornstarch instead of eggs as a thickener, there are no eggs to complicate things, making for a pretty fool proof pumpkin pie.
Don't for a second think it is any less creamy in texture than any other pumpkin pie though! If anything it is a tinny bit more so.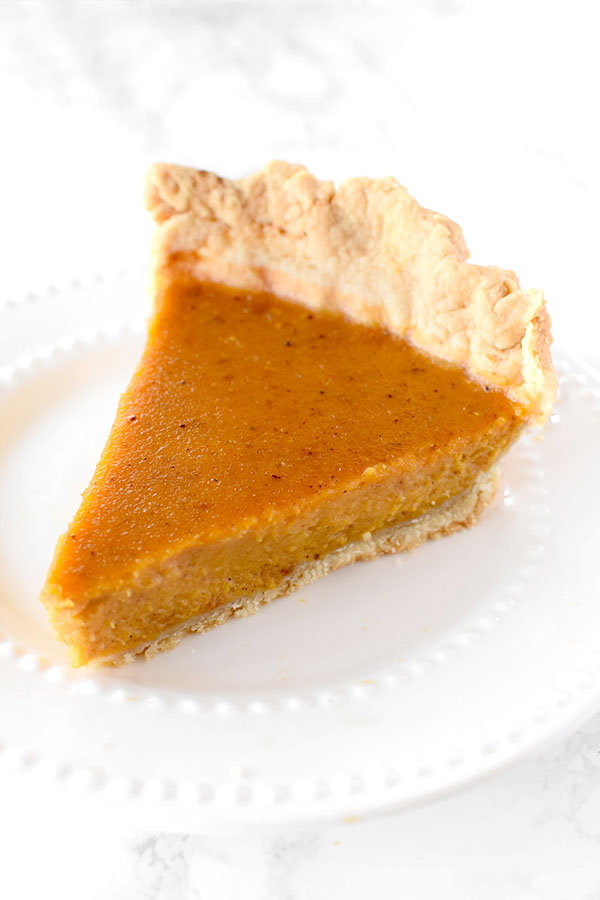 How easy this pie is to make and its perfect texture isn't the only thing that makes this the best vegan pumpkin pie.
For any food to be truly great it must have a delicious flavor, and this pie is based off of my Mom's pumpkin pie which is the best I've ever had bar none.
Whenever people ask me what my favorite food is, without hesitation I tell them pumpkin pie, but I do always have to add a caveat and say it's my Mom's pumpkin pie.
I find most pumpkin pies to be pretty bland and boring, but my Mom's is filled with flavor, and I can't get enough of it!
The first time I made pumpkin pie on my own I found it was bland and my Mom told me the secrete is more sugar.
So, you if you notice this pie has more sugar than other recipes, that's why – and it is all the better for it!
I've experimented with pumpkin pies a lot…
I've made pumpkin pie with coconut milk, pumpkin pie with almond milk, pumpkin pie with oat milk, pumpkin pie without eggs, and now this vegan pumpkin pie and they all taste exactly the same because the key is the amount of sugar and the spices.
HISTORY OF PUMPKIN PIE
The pumpkin is native to North America and was served at the first Thanksgiving.
It was an early export from the New World to Europe and pumpkin pie recipes could be found in seventeenth century English cookbooks.
Pumpkin pies made by early American colonists were very different than what we know today as pumpkin pie.
Their "pies" were actually savory soups made and served in a pumpkin rather than a sweet custard in a crust.
It was not until the early 1800s that the recipes appeared in American cookbooks and that pumpkin pie became a common addition to the Thanksgiving dinner.
At the same time in England, pumpkin "pies" were prepared by stuffing the pumpkin with apples, spices, and sugar, and then baking it whole.
WHY DO WE EAT PUMPKIN PIE ON THANKSGIVING?
This is actually due to the same incredible woman who is behind our celebrating Thanksgiving altogether: Sarah Josepha Hale.
Hale was a prominent writer and editor.
She wrote the children's poem Mary Had a Little Lamb, helped found the American Ladies' Magazine – which she used as a platform to promote women's issues – and was the editor for Godey's Ladys' Book for more than 40 years, turning it into one of the most influential periodicals in the country.
While at Godey's, Hale often wrote editorials and articles about the holidays, including Thanksgiving, despite it not being a holiday yet.
She believed that if Thanksgiving was passed as a federal holiday, it would help ease growing tensions and divisions between the North and South at the time.
Hale advocated for the national holiday for 17 years before it was successful. She wrote presidents Taylor, Fillmore, Pierce, and Buchanan who all ignored her.
However, this didn't stop her. She published recipes for the holiday in her magazine so women would know what to make for it. Among these recipes was pumpkin pie!
It was finally President Lincoln who listened, though he planned on declaring the holiday in April.
Hale wrote again, and within a week, Thanksgiving declared to be on the final Thursday in November.
He hoped, as Hale did, that it would help "heal the wounds of the nation."
Thanksgiving was declared a national holiday by President Abraham Lincoln halfway through the civil war.
However, since pumpkins were native to the North, southern states had no tradition of eating pumpkin pie, and sothey saw it as a symbol of Yankee culture imposed on them.
So, they made sweet potato pie instead. This tradition still holds in the South today, just as pumpkin pie does in the North.
IS PUMPKIN PUREE Vegan?
Pumpkin pie puree that is 100% pumpkin or is marked vegan is vegan.
CAN YOU USE REGULAR PUMPKINS TO MAKE PIE?
Technically you can but regular pumpkins do not have much flavor. Even sugar pumpkins aren't ideal for pumpkin pie.
Libby's uses a specific type of pumpkin called the Dickinson pumpkin that is a more similar to butternut squash than regular pumpkin.
WHAT PUMPKIN IS BEST FOR PUMPKIN PIE?
Dickinson pumpkin is best for pumpkin pie. However, since it is hard ti find, butternut squash is the best alternative.
HOW DO YOU SUBSTITUTE PUMPKIN PIE FILLING?
If you're not thrilled by the idea of using filling that comes out of a tin can, or live abroad and don't have access to pumpkin pie filling, butternut squash is a great substitute.
The New York Times did a pumpkin pie test to see which squash made the best pumpkin pie. As it turns out, butternut squash puree makes for the best pumpkin pie filling!
As it turns out, the Dickinson pumpkin used in making Libby's pie filling is actually the most in taste and texture to butternut squash.
I can actually confirm this to be true.
After moving to Israel, my Mom insisted on growing her own Dickinson pumpkins for pumpkin pie.
Funny thing, I was growing some pumpkins in the garden at the same time as butternut squash from seeds I had saved. Then one day, we found a butternut squash growing on the pumpkin vine!
Anyway, we made pumpkin pie with the Dickinson pumpkins, and it was exactly like my butternut squash pie.
No surprise, they were both just like Libby's pumpkin pie filling.
Do you have to put eggs in pumpkin pie?
No, you do not have to put eggs in pumpkin pie, but if you don't you'll need to replace them with another thickener.
What happens if you don't put egg in pumpkin pie?
Not using eggs in pumpkin pie doesn't effect the flavor of the pie but unless you use another thickener you'll end up with pumpkin pie soup in a crust bowl.
How do I substitute eggs for pumpkin?
The secrete to getting the perfect pumpkin pie without eggs is using cornstarch as a thickener.
I've used cornstarch for sauces, gravies, and even butternut squash pie when I didn't drain the butternut squash enough so the mixture was too liquidy,
So, knowing the food science behind cornstarch, it made sense to me to use it to replace the eggs as a thickener in this pumpkin pie.
Honestly, it turned out even better than I was expecting!
To replace eggs in pumpkin pie you need 2 tablespoons of cornstarch and 3 tablespoons of water per egg – it worked like a charm!
DOES THIS PUMPKIN PIE TASTE LIKE COCONUT?
Nope. There isn't even a hint of coconut flavor in this pie.
Does this vegan pumpkin pie taste like regular pumpkin pie?
One thing that can be frustrating about being on a special diet is that the classic foods usually don't taste exactly the same or has a strange texture.
However, this pumpkin pie has the same texture and flavor as non-vegan pumpkin pie.
The only difference is that I use a better pumpkin pie recipe than most so it will have more flavor.
MAKING AHEAD OF TIME
The filling can be made a day in advance. In fact, doing so allows the flavor of the spices to develop.
Freshly baked pumpkin pie will keep for about 3 to 4 days if covered and refrigerated.
CAN PUMPKIN PIE BE STORED AT ROOM TEMPERATURE?
No. It has a custard filling, so it needs to be refrigerated.
HOW TO STORE
Let cool to room temperature. Cover loosely with plastic wrap or foil. Refrigerate for up to 3 to 4 days.
HOW TO FREEZE
Let cool to room temperature. Wrap in plastic wrap until tightly sealed. Then wrap in a layer of aluminum foil.
If you do not have plastic wrap and aluminum foil, place it in a resealable freezer bag.
Place on a level freezer shelf and freeze for up to 1 to 2 months. After this, the pie is still safe to eat but the quality begins to degrade.
DEFROST
When you are ready to defrost the pie, transfer it to the refrigerator. Let thaw for at least 12 hours.